Various anime and cute goods below the cut
entirelycliched
on January 9, 2013
My feedback can be found here:
http://feedback.pkmncollectors.net/feedback/view/razeasha/
Please read my policies carefully! Some have changed!


I ship from Virginia, USA. Currently, I only feel comfortable shipping within the US, but I will ship to Canada.


Items will be shipped within five business days of receiving payment. (I don't ship on Saturdays, because my postmistress advises against it.)


After items are shipped, USPS is responsible for them. I do my very best to pack things well, so any damages would most likely be freak accidents. First Class items are neither tracked nor insured. Please ask if you want insurance or another form of shipping.


Items come from a smoke-free home.


There are two dogs and a cat in my home, but none come into contact with my items. (One dog sometimes walks into my room, but my collection is too high for her to even get near.)


I recycle packaging. If you want new packaging, just let me know. It'll add $2 and take me a little longer to ship, but I'm happy to do it! :)


All hangtags will be protected.


I'm not looking for trades, unless you have a Bianca Dot Sprite pin, Jolteon pin from the blind bags of cookies, or Turtwig Amigurumi Pokedoll.


I am open to offers, but please don't be offended if I decline your offer or counter offer.


Fees and shipping are no longer included in my prices! You can now choose between Priority and First Class!


First person to ask about an item gets priority. That being said, If I get no reply within 24 hours, I'll go to the next person.


I'm willing to hold an item if you are 110% committed. (The max I'd do is probably 5 days though.)


Backing out of sales or holds will result in a warning. If you make a habit of it, I will not sell to you.


I reserve the right to refuse a sale if I don't feel comfortable selling to you. (This is unlikely though.)


Feel free to ask questions and to ask for more pictures if you need them!


For reference, I estimate shipping (with fees) to start around $3 for first class and $6 for priority, so keep that in mind. :)

I NEED THIS STUFF GONE!!! Seriously, feel free to make offers! The worst I can do is say no, which is unlikely, since this stiff HAS TO GO!!! :)
I also love shipping things to the same address! <3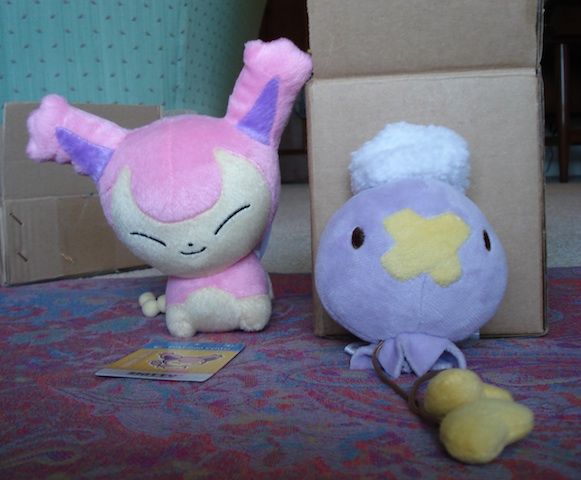 Picture with flash:
http://i82.photobucket.com/albums/j270/Razeasha/PKMN%20Trades%20and%20Sales/DSC00129b_zps1b09f155.jpg
Drifloon Canvas - $25 - Tush tag only. May have some dust in poof on top.
Skitty US Pokedoll - $14 - Like new. Hang tag is detached. Velboa.
Small Leafeon sitting pose plush - $11 – New with tags. The hang tag is very slightly curved but is not creased.
Leafeon US Pokedoll - $14 – Like new. Hang tag is detached. Minky.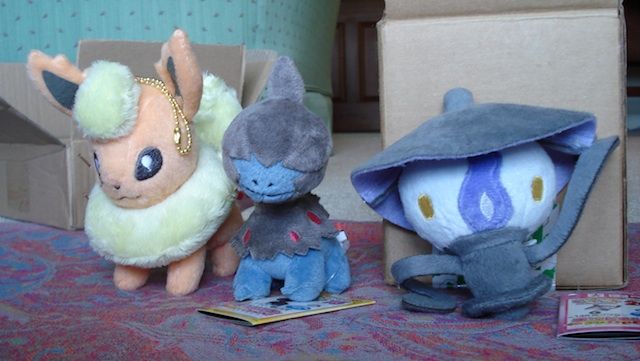 Flareon I <3 Eevee Ketchain plush - $12 - New with tags.
Lampent MPC - $10 – New with tags
Deino MPC - $9 – New with tags

Charizard DX Tomy - $4 - Very used condition with many, MANY paint marks. Paint missing on claws. Not pictured is a red mark on the other cheek.
http://i82.photobucket.com/albums/j270/Razeasha/PKMN%20Trades%20and%20Sales/DSC00159b_zpsda2734be.jpg
Blastoise DX Tomy - $3 -Very used condition with several paint marks. Paint missing on claws.
http://i82.photobucket.com/albums/j270/Razeasha/PKMN%20Trades%20and%20Sales/DSC00160b_zps4bc3a7b9.jpg
Pichu DX Tomy - $4 - Fair condition with only a few paint marks and paint missing on nose.
http://i82.photobucket.com/albums/j270/Razeasha/PKMN%20Trades%20and%20Sales/DSC00161b_zps91f4f55b.jpg
Elekid DX Tomy - $1 - Used condition. Has several paint marks.
http://i82.photobucket.com/albums/j270/Razeasha/PKMN%20Trades%20and%20Sales/DSC00162b_zpscf85f2c9.jpg
These guys wpuld probably be best for repaints. They're pretty marked up.
Picture with flash:
http://i82.photobucket.com/albums/j270/Razeasha/PKMN%20Trades%20and%20Sales/DSC00181b_zps6c11c48e.jpg
The backings for the TOMY boxes have some dents, bends, and general wear on the edges. If you want me to take them out of their packaging to decrease shipping costs, I can do that.
Flygon Tomy - $6 - MIP Japanese Tomy Figure.
Metagross Tomy - $5 - MIP Japanese Tomy Figure.
Kyurem Tomy - $5 - MIP Japanese Tomy Figure.
Reuniclus Tomy - $5 - MIP Japanese Tomy Figure.
Reshiram Lottery Keychain - $9 - Mint in package.
Buy all 5 things shipped Priority in a BOX for $35

Ladyba - $1 - Has some paint marks and missing paint.
Cleffa- $2 - Has a few paint rubs, but they are less noticeable.
Magikarp Attacck? Kid - $3 – I bought it used off of Mbok. It has minor wear.
Lilligant Kid - $4 – Bought from the comm. I can't find any flaws.
Skitty Kid - $1 - It has a paint mark on its forehead.
Suicune strap - $2 - Bought in a lot on Y!J. I don't see any flaws.
Hydriegon strap - $2 - Bought in a lot on Y!J. I don't see any flaws.
Worried Pikachu strap - $1 - Bought in a lot on Y!J. There is a tiny mark on his left hip. It's hard to notice.
Gothitelle DS stylus - $3 - MIP Celebi US Rumble U figure - $3 - Like new. Can come with pamphlet and capsule, but capsule might increase shipping.
Leafeon pin - $4 - Just removed from package. There are a few imperfections in the enamel, but they're hard to notice.
Sylveon pin - $5 - Just removed from package. Like new.Pokemon Mate N and Touko/Hilda Charm - $8 - Mint in package.
Roxy Gym Badge pin - $5 - Mint in package.
Zekrom strap - $1.50 - Bought secondhand, but does not look used.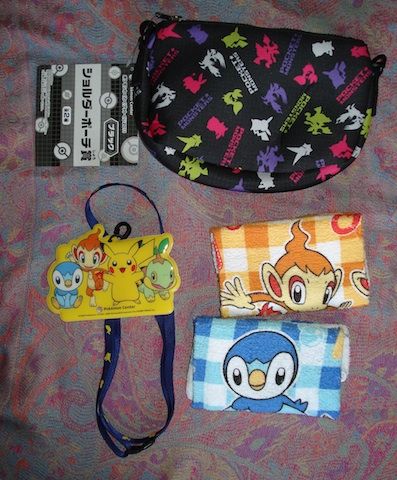 Lotto Shoulder Bag - $10 - New with tags. It will fir a 3DS XL with some extra room! The material is padded too, so it would protect whatever you put in it a little!
Chimchar Oshibori Towel - $9 - New! It was just removed from the package by me recently.
Piplup Oshibori Towel - $12 - New! It was just removed from the package by me recently.
http://en.wikipedia.org/wiki/Oshibori
Towels unfolded:
http://i82.photobucket.com/albums/j270/Razeasha/PKMN%20Trades%20and%20Sales/DSC00166b_zps24914766.jpg
DP Lanyard - $1 - Was in a lot from Y!J. I can't see any flaws.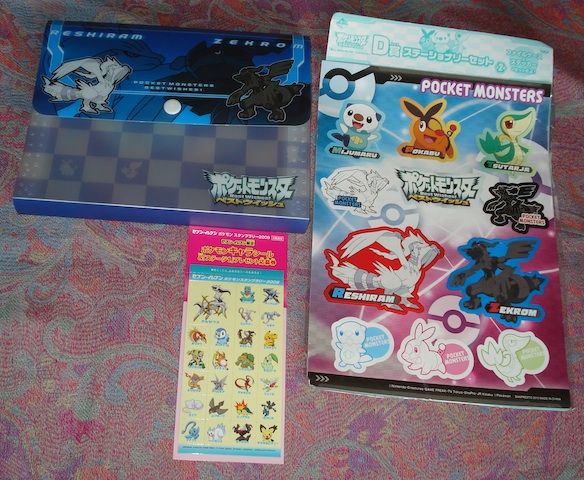 BW Lotto stickers - $2 - The cardboard behind them is bent in places, but the stickers are fine.
BW Small file organizer - $1.50 - Perfect for postcards, letters, and stationary!
DP 2009 sticker sheet - $4 - New and super cute! I'm not good at cutting stickers apart, so I'd like to sell them all together.
This is where we get into unfamiliar territory for me. I'm not a flats collector and have no idea what to do with these. The ones with plastic coating all have a somewhat tacky feel. I'm not sure if that's just from age or what. (Nothing was spilt on them.) I tried to price them decently, but feel free to make an offer! Mint>Excellent>Very Good>Good>Fair>Poor
Topps Cards - $3 – These all just have this pattern on the back. Wartortle, Dratini, and Dragonite are foils. Charizard is missing, but Squirtle, Bulbasaur, and Dratini lines are complete.
Topps? Cards - $6 – These have information about each Pokémon on the back. I have the entire set up until Golum. I think they released them in waves and I stopped for the most part after the second wave. I also have the humans who make the picture along with the ones that have bios. Nidorina is the only one with significant damage.
Nidorina's Damage:
http://i82.photobucket.com/albums/j270/Razeasha/PKMN%20Trades%20and%20Sales/DSC00064b_zpseb140f0d.jpg
Additional picture of Humans:
http://i82.photobucket.com/albums/j270/Razeasha/PKMN%20Trades%20and%20Sales/DSC00065b_zps0204a5ad.jpg
Pokemon TCG lot - $5 - These cards are all new. This lot contains every card from the Fennekin deck MINUS the two Furfrou. It also contains some misc cards from booster packs that came with the deck and with the Fenbekin figure released earlier. (Fennekin promo figure and promo card not included.)
FREEBIES!
All freebies are offered "as is" and likely have damage.
Claim as many as you want. They might increase shipping by a little.
On Hold:
Gone: All Fuzzies, Mewtwo
I was granted sales permission by
Not knowing what else to say, I replied, "Thank you." But as I walked back to my father, I was unsure if it was a backhanded compliment, especially since his tone seemed like it could be somewhat disbelieving or a tad snarky. I could not see his face, so whatever expression it carried was completely lost on me.
(
It's not a novel, but it's a little too long to just leav hanging in your feed or on your friends page.
Collapse
)
(Also, I love Toph and almost never have a reason to use this icon, so thank you, Wal-Mart stranger, for you have given me an opportunity! :3)
Today, my father and I were checking out at Wal-Mart. In order to expedite our departure, I went to put the shopping cart away while he paid. On my way back to where he stood, I saw someone coming towards me. I stopped and waited for them to pass. The man who passed me remarked, "You do pretty well for someone with black glasses and a cane."
Current Mood:

content

Current Music:

How Crazy by SCANDAL (YUI cover from the SHE LOVES YOU album)
Do you ever wonder what your landscaper does when they really, really hate you? Even though it was probably not the case, my mother and I like to think that sheer loathing is the only reason why someone would plant hybrid Dogwoods such as the ones that shade our front walk. When these trees bloom, instead of having white, rounded petals similar to those of the normal Dogwood Tree, they have petals that come to an angry point and are tinged green. Even at the best of times, they are not particularly lovely.

Then, Autumn comes. Just before the air becomes crisp and cool, these trees begin to incessantly rain angry, red berries onto everything. The humidity of the last days of summer insure that the festering smell of these stinkfruits constantly lingers above the walkway. One can sweep them off multiple times each day and still find more. We do everything we can to avoid them and get them out of the way, but a few inevitably get squished underfoot.

When one of these miserable stink-orbs gets squished, it's as if a vortex has been opened to another planet-a planet where sour, decomposing fruits roam free in the detritus of their garbage-paved land. Fortunately, they are easy enough to scrape off of one's shoe in the grass, but their smell will linger on the pathway until the next rain.

Tonight, I began to hear squeaking noises that seemed very close. I moved to the door in hopes of finding the source of the noise. Turning on the lights outside and peeking out the window, I saw them. There were four brown raccoons skittering along on our walk very close to the door. They were most certainly attracted by the enticingly foul scent that beckoned them to our sidewalk smorgasbord. I watched them retreat into the hedges, alerted to another presence by the light.

I am still unsure whether I want to add the raccoons to the ever-growing list of reasons to hate these trees, since it doesn't seem like a good thing to have wildlife that close to our front door.
On the other hand,
I found them somewhat cute, so I don't feel like it was too bad.
There are many questions surrounding these trees. Who would create such a hybrid and think it suitable to sell to innocent people? Why are they still here with their impossibly high numbers of rancid berries dropping daily? However, I do know that, tomorrow-as sure as the sun will rise-there will be still more repugnant stink-orbs to sweep from the walkway. As frustrating as it is, I can appreciate the little bit of certainty it provides...until another of Mother Nature's mini misery bombs is accidentally squished beneath my shoe.
Current Mood:

content

Current Music:

Overrated by Thriving Ivory
Here are my non-Pokemon anime sales. Some of the items listed can be a little hard to find, especially for these prices. ;)


We have a Cairn Terrier, who is quite the hunter. She has hunted many a creature, including lizards, rabbits, moles, locusts, and many other things that she deems to be good targets. She has also consumed various insects and one unidentified rodent, much to the chagrin of my mother, who was attempting to stop her.

Naturally, I thought she would be interested in the toad sitting patiently not more than two feet from her, but she never seems to pay attention to him--not even a sniff. I attempted to point him out to her tonight, but she only stepped over him and knocked him over carelessly with a paw.

I believe he garnered this reaction not because she is used to his presence but rather because he is a superb actor. Like most toads, one of his defense mechanisms is pretending to be a rock. He hunkers down, draws all of his limbs in tightly, and puffs up his sides. Unlike most toads I've encountered, he is amazing at it. I wonder if he thinks in his little toad mind, "Be the rock. Be the rock. Still and patient." When she knocked him over, he didn't move, he merely rolled over just as still as he could be. I picked him up to right him, and, even in my hands, he did not move a muscle. Most toads try to escape at that point, but he is one determined fellow. I admire his dedication to his chosen method of self-preservation.
On the stone patio of our three-quarter basement sits a toad. He comes regularly to sit near the glass door, probably in the hopes of eating a few insects drawn by the inside lights. He's quite a talented fellow and is quite the magnificent actor.
Current Mood:

impressed
pkmncollectors
for the sake ob brevity or the lack of true relevance. Here's a link to the post over there too.
http://pkmncollectors.livejournal.com/14042472.html
I'm also putting this under a cut for the sake of saving space on people's friends pages.
(
Snip snip!
Collapse
)
Once again, these are just some stories or whatever that didn't make it into my post on
Current Mood:

sleepy


It was the day after Christmas (and all through the house...). Mom and I were exhausted from cooking Christmas dinner for the past three days. We had enjoyed the company of relatives from both sides of the family for a big Christmas dinner the day before and were very glad that we only needed to reheat the plethora of leftover dishes from the previous day to have that night's dinner.

During the heating process of numerous dishes, I sauntered into the kitchen and smelled something unusual. After taking a minute to place the smell, I asked, "Is something burning?"

My mother assured me that nothing was burning. We then began talking about the various dishes. When we got to the green bean casserole (Which, for those of you who don't know, is a dish comprised of green beans, cream of mushroom soup, and these little crunchy onions that you broil on the top.), my mother froze. "The green bean casserole!" She gasped.

She and my father ran to the oven and pulled the rack out to check it. All the onions on the top were black instead of a deep, golden brown. Almost as soon as it was exposed to the air, the top burst into flames. Surprised, my mother let out a yelp. Smoke billowed out into the kitchen, and there was much yelling from all of us and a little bit of laughter on my part. It seemed to me to be an event that I usually only saw in cartoons and comedy movies and was, by its very nature, quite amusing. The flames must have been four or five inches tall at their highest point.

As my mother tried to extinguish the flames muttering a string of "hoo hah oooh ahs" as people sometimes do when things are hot, the smoke alarm sounded, its screeches filling the room. The only comfort was knowing that it actually still functioned!

Possibly only seconds before it went off, my grandmother began yelling from across the room, "Fan the smoke alarm so it doesn't beep! Fan the smoke alarm! Fan the smoke alarm..."

My mother shouted back exasperatedly, "I think it's a little late for that!" However, my father complied anyway, standing on a chair dragged from the kitchen table with a dish towel in his hands. I suppose attempting something after its too late is still an attempt. It seems to count for the government, at least.

After the flames were extinguished and the smoke alarm reset, my mother scraped off the burnt onions, replaced them with fresh ones, and broiled the top again while watching it very carefully. We all then gathered at the table for a nice meal that did not arrive on the table flaming.

What did you think? I'm certainly no David Sedaris or Frank McCourt, but I hope you liked it nonetheless!
With my resolution to post more in my journal, I bring you a story from two(?) Christmases ago.
Current Mood:

amused


I left the one about my graduation because I had forgotten how much work I had to do the last couple months of my senior year. I'll probably never tell you all about the suicide of my friend. A classmate asked for stories about him recently, and I'm just barely ready to write them down for him. The grieving process is a long and personal journey, but I am glad to say that I now understand that his death was not my fault. It took two years to feel like I hadn't been the one who let him down and let him die. It took another two years for me to finally admit that I have no control over anyone's actions but mine and that it was ultimately his decision. Now I'm just left with the pain of missing someone who meant so much to me.

I left my nerd post, since I am still a nerd and like many of those things. I don't really cosplay anymore, nor do I keep up with many anime or manga, however, my love for the Japanese language and culture has deepened to the point where I'm olanning on going for my masters and PhD. in a Japan-related field. I'm really interested in literature and how it explains and deals with cultural issues. I'm also very interested in Women's Studies in Japan. Ishigaki Rin is one of my favorite Japanese poets. I can't wait to get into grad school to continue my studies.

I left the "mundane" post because I had actually forgotten that my grandma hadn't known that Sandi had died. It's interesting what I forget over time. I feel as if I am more forgetful now. I wonder if it is because I'm thinking about so many things at once...

I left the one about Preview because college was (and probably will always be) a continual cycle of excitement, and frustration. I wouldn't trade it for anything though!

I hope to update my story about being stranded in Norfolk at 1 am to make it a better read. I also plan to make more well-written posts from now on that actually say something that people might find interesting. That being said, I rarely update! Maybe I'll try to do so with a little more frequency.
There's nothing like going through my old LJ posts to make me realize how much I've grown over the years. Luckily, there's a "Delete Entry" button just waiting to be used! I left a few of the older posts, since deleting all of them just seemed so strange. I don't want to erase everything of who I was when I was less mature, but only a small portion is necessary. I left some of the more important ones.
Current Mood:

accomplished

Current Music:

Midtown Direct by Randi Driscoll